From April 10 to 20, 2008 Wyneke Jordans and Leo van Doeselaar toured Indonesia. They came back loaded with impressions of this fascinating country.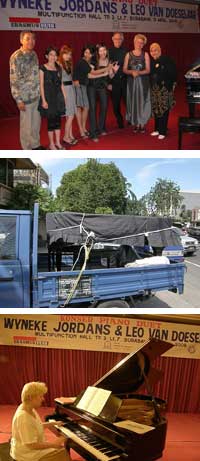 A master-class on April 11th at the YMC in Djakarta with enthusiastic and well-trained students (see photo's) was followed on the 12th by a concert in the same city. The well-attended concert with many young listeners went very well and the duo were presented with handsome gifts, had to give a lot of signatures and was endlessly photographed.
On April 13th they flew to Manado on the beautiful island of Sulawesi, a truly green paradise. The concert given at a church built in Dutch style was received very well. Warm applause, nice gifts, encores. The concert – one of the two that are given there during the year – was organized in collaboration with the Dutch Embassy by an enthusiastic local piano teacher (Gus), who used to study in the USA and Australia. Then on to Makassar for a concert on the 15th at the 'Harmonie', an old Dutch building that had known better days. But the hall was fully seated and the audience more and more enthusiastic as the concert went on.
Next day flight to Surabaya, where they went straight to the Yamaha Center to choose two grand piano's, one for the master-class and one for the concert. The master-class next day brought five duo's on the stage that played quite well. Quite a surprise was Milhaud's Le Boeuf sur le Toit, performed by a girl of nine years old and her brother of twelve who gave an impeccable performance with all the tempi right. Another surprise was that when they left the building, they saw a pickup truck carrying the Yamaha in the tropical heat to the hall where the concert was to take place (photo). For obvious reasons the piano was rather out of tune during the rehearsal that afternoon, but fortunately the tuner did his job very well. The papers next day payed a lot of attention to the concert, with photo's on the front page and reviews.
Next day back to Djakarta for a small concert at the Residency. Hearty welcome by Ambassador van Dam. Audience a mix of real music lovers, smartly dressed people and dozing and coughing Indonesian pensionados, waiting for the delicacies that were to be served after the performance.
The 19th of April they went back home again. 'It would not be easy to resume the European work- and life rhythm after such a trip of one's dreams,' Leo concludes his holiday diary.