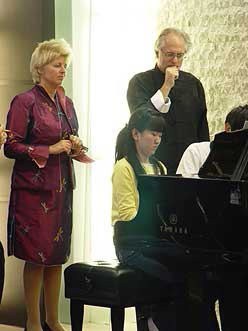 After the highly successful concert tour of the Amsterdam Pianoduo in China last year, their visit to Shanghai and Beijing last October again was a great success.
On 13 October the duo performed an all-Mozart programme at the Shanghai Concert Hall with its great acoustics. The reactions of the for a part rather young but surprisingly concentrated audience were spontaneous and heartwarming.
The programme of the concert given at the beautiful Hall of the Conservatory in Beijing was a mixed one, the audience mainly consisting of youthful pianists and students and teachers of the Conservatory. At the second encore, Brahms's Hungarian Dance No 3, the young public spontaneously started to clap their hands with the driving rhythm of the music.
Prior to the concert Wyneke and Leo were interviewed by a journalist of an important Chinese music review and by the correspondent of Dutch Radio and TV in Beijing. The latter was also present at the masterclass the day after. His commentary was broadcasted in Holland on Monday 16 October and can be listened again to via http://scylla.e-accent.com/dl/Pianoduo_16_Oct_Radio%201.mp3.
Unfortunately only two duos were able to perform in the master-class. Their technique being satisfactory, the Amsterdam duo with their longtime experience could fully concentrate on the problems of ensemble.
In an interview in an important Beijing paper Leo declared: "China has 40 million piano players, mainly soloists. In this country where teamwork is considered so important there appears to be a great demand for the development of playing chamber music and especially piano works for four hands."