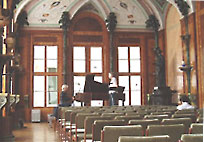 Wyneke Jordans and Nico van der Meel rehearsing in the Potsdam Concert Hall
During a Lieder recital in Potsdam (Germany) last July, as part of the Potsdamer Musikfestspiele, Dutch tenor Nico van der Meel and the Amsterdam Piano Duo performed music of the 19th century by Dutch composers.
"Wyneke Jordans and Leo van Doeselaar not only proved themselves individually to be perfect accompanists," as Babette Kaiserkern wrote in the 'Potsdamer neueste Nachrichten' after the concert, "but they also captivated the audience with two quatre-mains compositions. George Witte's spirited waltzes especially speak a very specific language, elegant, earthly and sincere, like colourful-swaying tulip fields in a Dutch spring."