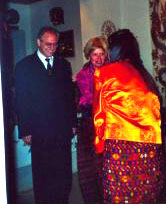 Photo: Salutation with the Queen of Bhutan after the recital
The Jordans & Van Doeselaar pianoduo had the honour of performing for the Royal Family of Bhutan. It was the very first pianorecital ever in the Kingdom of Bhutan and it was broadcasted on Bhutanese national television.
When the piano intended for the recital proved unplayable, Her Royal Highness the Queen of Bhutan graciously offered her own instrument, a Yamaha concert piano.